Hadrian's Wall Walk
This is the Hadrian's Wall Walk Page. It features an interactive map (towards the bottom of the page) that is intended to help anyone planning a hike along the walk to plan the each days walking. To this end the path is clearly marked with alternating red and orange sections. Each section is 2 miles long (they correspond to the map sections used in the Hadrian's Wall App) except for the Wallsend section which is 1.25 miles long. Much of this information is provided in a booklet format available on Amazon to allow easy planning of the walk as well as a handy pocket resource to allow the walker to track their progress throughout the walk.
Planning a walk on the Hadrian's Wall PathThe Hadrian's Wall Path starts in Wallsend in Newcastle and ends in Bowness on Solway which is west of Carlisle. Most people seem to walk this direction, but there is nothing stopping you from starting in Bowness and walking East to Wallsend (doing this has the advantage of keeping the prevailing wind at your back). In either case unless it is very convenient for you to get to Carlisle the best way to get to the starting point is to get to Newcastle. From there the train service to Carlisle is excellent and affordable, alternatively the AD122 bus service that services Hadrian's Wall is a good way to get around (in the on-season). There is a good bus from Carlisle bus station to Bowness-on-Solway, a link is provided at the bottom of the page.
Standard SectionsThe trail is typically divided into the following sections, each section representing a day's walking. There is obviously no obligation to stick to this breakdown, and with this in mind the map below indicates the trail in two mile sections (alternating red and orange lines, though the section from Wallsend to St. Anthony's is only 1.25 miles). This allows you to quickly choose a day's walking by counting sections up to the distance you feel comfortable with. This will depend on the type of terrain, so the terrain associated with each of the standard sections is described.
Wallsend to Heddon-on-the-wallThis section covers a distance of 15.25 miles. Most of this distance is spent getting out of Newcastle along the north bank of the Tyne. As such the terrain as far as Newburn is mainly flat and on footpaths or cycle paths. The last two miles from the bank of the Tyne to Heddon on the Wall involves a climb of about 120m. The extensive walking on tarmac means that it is a good idea to use a comfortable running/walking shoe as opposed to boots for this section. Depending on your neeeds the number 22 bus can be very useful on this section, running from Wallsend to Throckley via Newburn. Much of the route between Newcastle centre and Newburn is very close to the Hadrian's Wall route. Cumulative climb heading West: 300m. Cumulative climb heading East: 200m. Naismith's rule (see below) would peg this at (15.25/3)hrs + 30 minutes = 5hours 35mins walking time heading West, and 5hours 25 minutes heading East.
Heddon-on-the-wall to ChollerfordThis section is about 15.75 miles and gets you into the countryside, with much walking through fields and some sections through woodland. After a predominantly flat section out to Wall Houses, then a climb of 50m or so, followed by a dip and a climb back to about the same level at Stanly Plantation. The section from here to St. Oswald Tea Rooms is relatively flat, can be boggy, and gives good views to the north. Then the trail descends by about 150m to Chollerford. The cumulative climb is about 140m. Cumulative climb heading West: 340m. Cumulative climb heading East: 340m. Naismith's rule (see below) would peg this at (15.75/3)hrs + 34 minutes = 5hours 49mins walking time heading West and 5hours 49 minutes heading East.
Chollerford to Once Brewed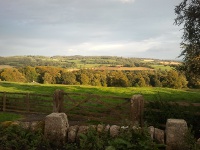 Wallwick This section is 12.25 miles and gets into the rough stuff as regards terrain. The initial 2.5 miles regains the 150m from the previous day and then adds another 40m, topping out at Limestone Corner. After this is is fairly flat, but getting soggier, with reinforcement mesh protecting some sections of the trail. In particular there is some very boggy sections in the mile after Carraw (around mile 6), requiring some inventive negotiation to avoid wet feet. Once past here the climb to Sewingshields Crags starts through a wood, climbing about 80m over 1/3 of a mile. The trail then drops 50m over a mile to Housesteads Fort, then climbs 50m over the next mile to Hotbanks Crags, where that 50m is promptly dropped again over the next 1/2 mile. The remaining 1.5 miles does not involve much climbing or descent, bar the famous Sycamore Gap, but like all of the walk along the crags it requires a certain amount of sure-footedness. The cumulative climb is about 300m. Cumulative climb heading West: 480m. Cumulative climb heading East: 260m. Naismith's rule (see below) would peg this at (6/3)hrs +(6.25/2.5)hrs+ 48 minutes = 5hours 18 minutes walking time heading West, and 4 hours 56 minutes heading East.
Once Brewed to Banks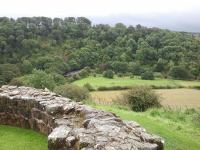 Willowford This section is 11 miles and sees the last of the Crags. It starts by quickly regaining the lost 50m in the first 1/2 mile to the highest point on the trail on Windshield Crags, where there is a trig point. This is followed by a 130m drop over the following 2 miles or so, punctuated by Caw Gap, marking the transition to Cawfields Crags finishing at a disused quarry. The next mile involves easy farmland and a slight climb to another plantation (Cockmount Hill). Then you are climbing onto the Walltown Crags and then to Walltown Quarry. That is the end of the crags and a return to farmland mixed with some road walking. The remaining 7 miles is a very pleasant walk, though again with some boggy bits and no shortage of mesh protecting the land. It passes Thirwall Castle, Gilsland, Willowford Bridge and Birdoswald Fort before reaching Banks. The cumulative climb is about 130m. Cumulative climb heading West: 280m. Cumulative climb heading East: 420m. Naismith's rule (see below) would peg this at (6/2.5)hrs +(5/3)hrs+ 28 minutes = 4hours 32 mins walking time heading West, and 4hours 46 minutes heading East
Banks to CarlisleThis section is about 13.5. The first 3. miles brings you to Walton, and is mainly on farm tracks with some road walking. The next 2 miles takes you to Newtown though farmland, a couple of woods and a nice bridge. Newtown to Crosby on Eden takes a bit over 4 miles, most of it a steady downhill tramp through farmland or along laneways. After another 1.5 miles, often skirting the northern bank of the river Eden you reach Linstock. Then 2.5 comfrotable miles on through Rickerby Park to the outskirts of Carlisle. The cumulative climb on this section is about 60m. Cumulative climb heading West: 150m. Cumulative climb heading East: 280m. Naismith's rule (see below) would peg this at (13.5/3)hrs+ 15 minutes = 4hours 45 mins walking time heading West and 4hours 58 minutes heading East.
Carlisle to Bowness-on-Solway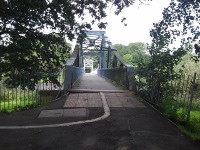 Rickerby From Rickerby Park you swap to the south Bank of the Eden for the last section that is about 15.5 miles. This southern bank is your friend for the next four miles with limited climbing where steep banks require steps to negotiate them. Then you come to Grinsdale after which a 2 mile stretch of farm track, fields and more up and down steps along steep banks brings you to Beaumont. From Beaumont a farm track brings you to a field where a line of trees guides you back down to a road section through Burgh-by-Sands and a 4 mile trudge beside the road through Burgh Marsh to Drumburgh. At Drumburgh left turn down a track followed by some fields takes you to Glasson over just shy of 2 miles, then 4 and a bit miles along track and road brings you to the finish line in Bowness-on-Solway. Climb is negligible. Cumulative climb heading West: 130m. Cumulative climb heading East: 130m. Naismith's rule (see below) would peg this at (15.5/3)hrs + 13 minutes = 5hours 23 mins walking time heading West, and the same heading East.
Accomodation Having decided how far you want to walk on a given day (taking into account the terrain descriptions given above) the next thing to do is arrange accomodation. There is plenty to choose from, but it is not always possible to walk to your accomodation from the trail. Luckilly there is no shortage of options to help out. The AD122 bus provides a great service, and there are a number of taxi services that are dedicated to servicing the trail, so if you have trouble finding a convinient B&B look further afield and they will most likely be able to advise you on the best way to get from the trail to a warm shower and soft bed at their establishment.
BagsWhile the trail is not too hard going it is far more pleasant to leave the heavy lifting to someone else, and a couple of services exist to help in this regard. The going rate seems to be 5 per bag per day. All you need do is provide them with your accomodation itinerary and they will see to it that your bags get picked up in the morning and are waiting for you when you stumble tired into your night's accomodation. Links are provided below.
Sycamore Gap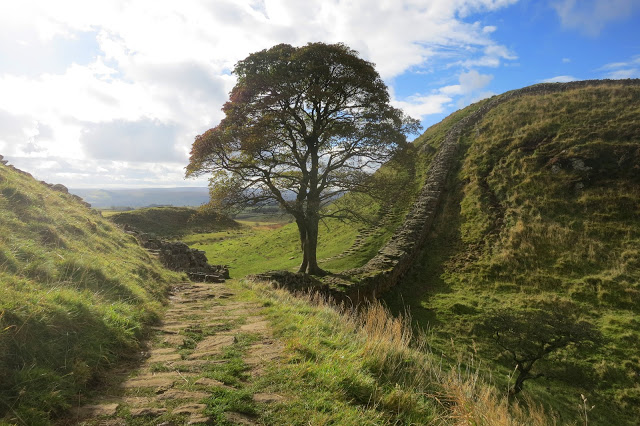 Milecastle 39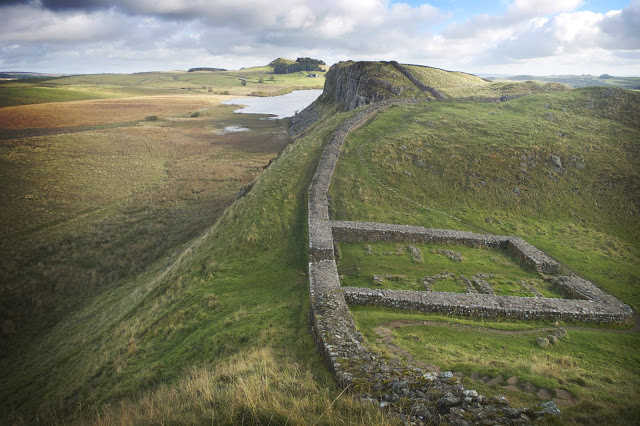 The Wall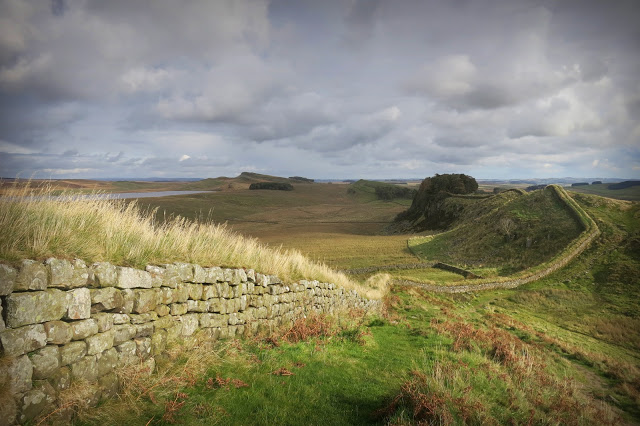 ❮
❯